GCC Medical Report Online Check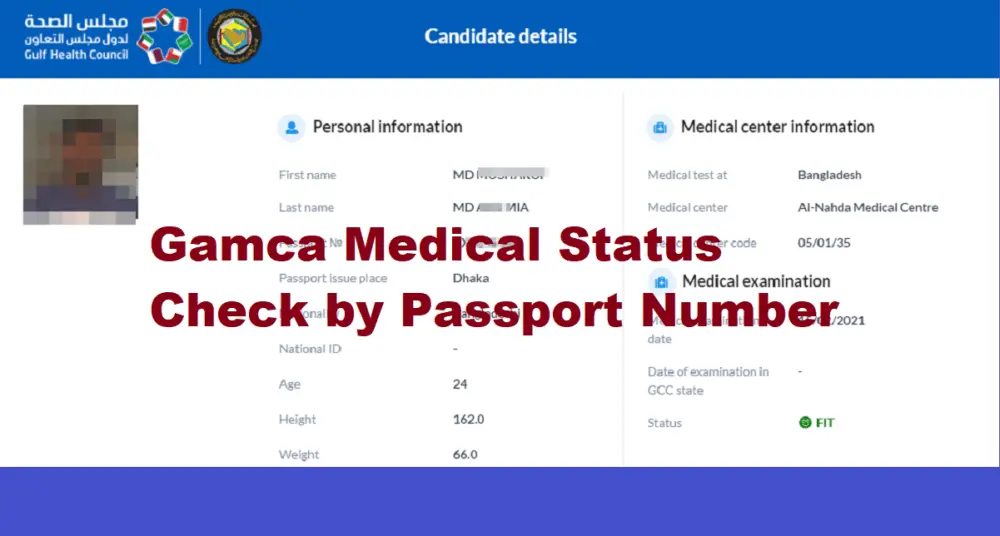 GCC Passport Medical Report Online Check method is available here. Anyone can check online medical report by visiting https://v2.gcchmc.org/ from any part of the world. With the start of modern journey, people of all countries are able to check medical reports online. Follow the article to know the complete discussion about this.
Also, to get the medical report, you have to contact the authorities very quickly. Currently the manpower of different countries are doing (medical) to go to Malaysia, Oman, Saudi Arabia and other countries, he is looking for different websites to view the report online. So I want to give you the right idea, here you can get the password medical report online through the official website.
Medical report is usually required for visa processing when moving from one country to another. According to the authority sources, if any person does medical, usually the report comes out after 8 to 10 days, you can get it online in just 4 days. Medical report can be quickly extracted online with just passport number. Follow the online medical report check procedure given on our website for everyone's convenience.
Read More: Check Medical Status Online
We are going to give good news to those of you who have done your medical for travel, treatment, business or work in different countries and have not received the report yet because you can get it out very easily with the Passport number. https://v2.gcchmc.org/ This is the only website for medical report check online, visit now and collect desired report using passport number. For more convenience, the details along with the link are given below, now follow the information to know the GCC Passport Medical Report Online.
Gamca Medical Status Check by Passport Number
Open google and search for Gamca or Gcchmc
Click on the official website of Gamca which is – https://v2.gcchmc.org
At the menu bar click on check candidate status
Enter your passport number and nationality and click on generate.
It will generate your Gamca medical report.
All those who have come to know details about medical report online are at the right place and can follow the above guidelines. Also, you can get the report from the place where you got your medical report checked. Here is only GCC Passport Medical Report online method, if you wish you can get it. Most people don't know how to get medical report online so this article will help you.
Update: Check Medical Status gcchmc.org website officially changed by the authorities. Now all the activities of medical report are going on at full speed through waftid.com everyone visit now and understand the desired content. The rules for checking the medical report are the same only the website has changed so you don't need to worry GCC medical report can be checked online with the passport number.
The medical status tools we have provided, not all countries in the world can check medical reports, there are different websites for that. This article discusses the countries where medical reports can be checked by gcchmc.org. We are going to publish a few more articles about the method by which people in Europe, America and other continents check their medical report status. If you are interested, follow us regularly.
Must pass the medical test for arrival in any country, the visa process will be activated after submitting the result to the agency. So, if you are physically unfit in the medical test, then you will not get the visa approved, you should report yourself as completely fit. Everyone knows about this we just mentioned it so that you can be better informed. Any medical report can be checked according to the above rules, if there is any problem in understanding then visit other articles on our website.
If you have visited the website of GCC Passport Medical Report you must have got it. Because all the information we have provided here is medical report can be checked online instantly. Anyway, if you have any special opinion about this, you can certainly inform us in the comment box or you can mail, you will get a quick reply. Those who have not received the medical report online, wait or contact the authorities.