DWA Admit Card Download 2023
We will introduce those who are looking for Department of Women Affairs DWA Exam Admit Card for the post of Office Sohayok  to the official website, already available for everyone's convenience. DWA exam date 2023 for 417 posts has been released so downloading admit card is essential as it will be required to participate.
http://dwa.teletalk.com.bd This is the link to download Office Sohayok Recruitment Exam Admit Card of Department of Women Affairs DWA So collect it now using User ID and Password. Many people don't know the system of procedures to download DWA admit card from online specially we published this post to inform everyone it will be useful for you.
DWA Office Sohayok Admit Card
Officially this job circular was published in 2022 the authorities will conduct sudden recruitment exam to provide jobs to the qualified manpower all over the country so the mentioned DWA recruitment exam is very important. If you are interested then definitely attend the recruitment test, check all the details already sent by the authority to the applicant through mobile SMS.
In that SMS you will get User ID and Password and DWA admit card download link and so you can easily get it using mobile or computer and print from there. Nowadays, with the convenience of internet, job aspirants are able to know all the updates about the recruitment instantly from the comfort of their homes.
Read More: DWA Exam Date and Admit Card Download
DWA Teletalk com bd Admit Card download
Apart from this website http://dwa.teletalk.com.bd/, there is no other way to download Department of Women Affairs Admit Card 2023 so follow it seriously you can collect it online in no time. There is no special rules for downloading DWA Admit Card, if you visit the link it will ask for User ID and Password, you can download it using this. And if someone's user ID and password are wrong, you can recover from the mentioned website and wait for our next article to get that system. However, the information sent by the Department of Women Affairs DWA in the applicant's mobile SMS is absolutely correct, you can safely download the admit card.
First, go to the official website http://dwa.teletalk.com.bd/admitcard/index.php.
Then you need to click on the DWA entry form.
Then you need to log in with the user id and password.
Your entry form will then be ready for download.
Finally, you will click on print with your admit card.
DWA admit Card Download 2023
Many already know that DWA exam date will be held on 20th October 2023 from 10 AM to 11 AM. Full marks will be 70 This is MCQ exam so we hope you will appear prepared to appear in the said recruitment exam. Because if you want to get a job, you have to get qualified.
However, for everyone's benefit we will not take the discussion aside, here we will continue to discuss only about recruitment exam date and admit card notification download. If you want to know more about other matters, you have to visit the official website of the Department of Women Affairs DWA and you can also contact the authorities.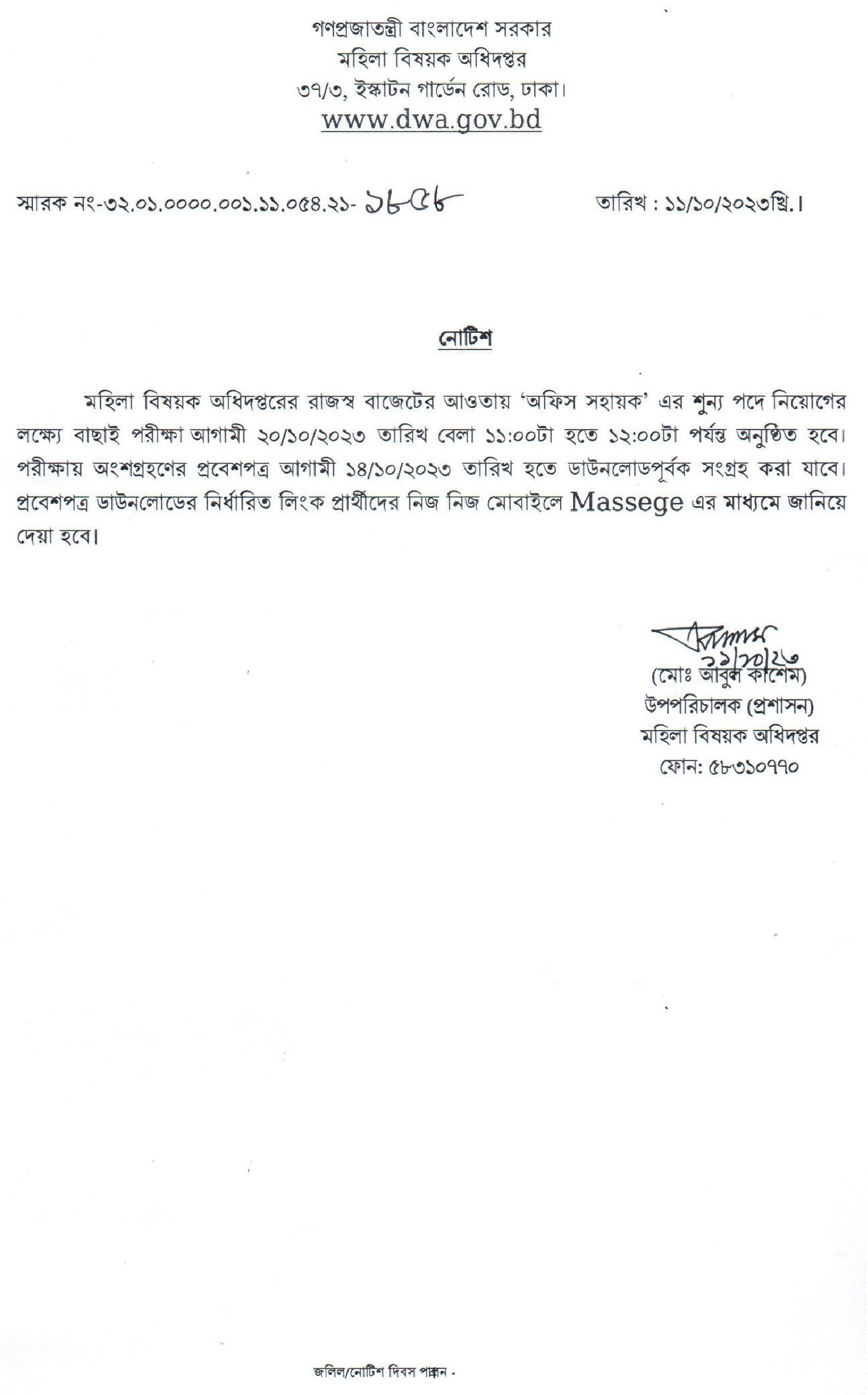 Conclusion Speech: We hope, you are successful in downloading DWA Admit Card online so if you like the post share it so that other job aspirants can also get recruitment updates. And if you have any comments or questions about the mentioned matter, let us know. Our team will try to reply you quickly. Thank you.