DWA Exam Date and Admit Card Download 2023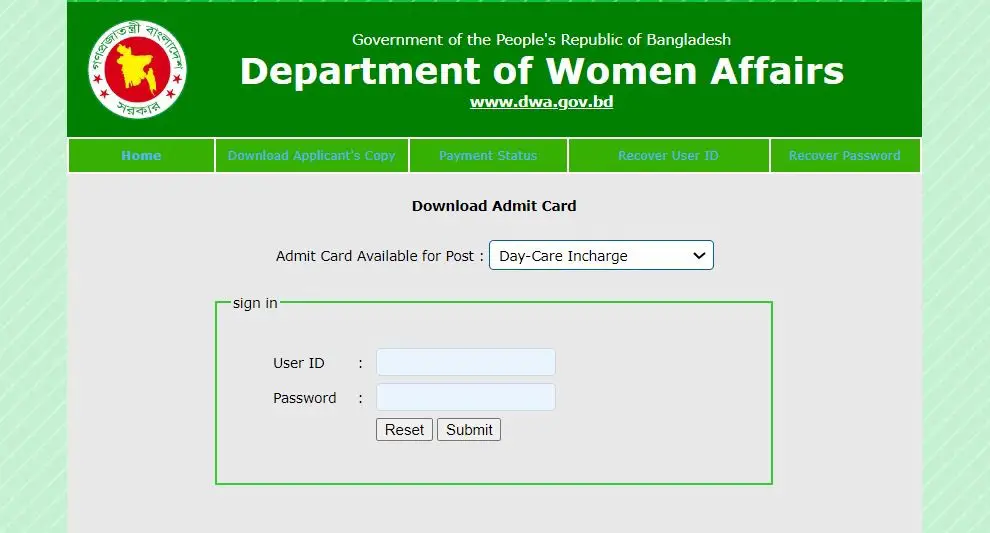 Department of Women Affairs recruitment exam date and admit card 2023 release for 504 posts. Download DWA admit card now, it will be required to appear in the exam. Check that the authorities have already sent some documents of the DWA exam through the applicant's mobile SMS. 2021 job circular was, now the recruitment exam is going to be held which is very very good news because through this job aspirants all over the country will get a chance to work under the department of women affairs. Must prepare for DWA exam as millions of job aspirants have to qualify through it.
Officially published DWA exam board notice, just now we have collected and prepared this report and provided here. So, if you are a candidate then you are at the right place, easily get information about DWA Recruitment Exam Date, Admit Card and Seat Plan 2023. It is estimated that more than one and a half lakh candidates applied online for this job, now getting a chance to take the exam. From the notice of the authorities, there is a practice that the candidates will get the job after the completion of this program very soon. Anyway now your task is to download DWA Admit Card 2023 and prepare for the exam.
 Department of Women Affairs (DWA) will conduct the examination in various centers in Dhaka, since the date has already been published, the final DWA Recruitment Examination 2023 will be held, the date is unlikely to change. If such news comes, then a new post will be posted on our website for everyone's convenience. Most of the times we see job aspirants from all over the country visit checkresultbd.com to know the admit card and date for any government department recruitment exam, that's why we are keen to collect and present the documents from authentic sources. So see the detailed report below about this job exam.
DWA Exam Info:
Organization Name: Department of Women's Affairs (DWA)
Total Vacancy: 504
Exam Type: MCQ
Exam Date: 20 October 2023
Exam Time: 11.00 AM to 12.00 PM
Exam Centre: Dhaka
Admit Download Link: http://dwa.teletalk.com.bd/
Department of Women Affairs (DWA) Exam Date and Admit Card & Seat Plan Notice 2023
You have seen all distribution of DWA exam above we hope you can collect them and prepare for the exam. If there is a problem in understanding the mentioned topic, then learn from other websites. Moreover, there is an official website of the government from where the updated notice of recruitment exam schedule, admit card and seat plan of women affairs department is available. Admit card download method we tell here a little that if you want to collect from online first you have to visit dwa.teletalk.com.bd.
DWA cannot collect admit cards by any means other than using the user's ID and password. Once you enter the mentioned website, you will understand what will be required. We have already given the link to download the admit card above. Know easily. Hopefully all the topics you need to know for this recruitment exam must be found here. So read this post carefully to know better, and keep an eye on the official website to get the latest updates regularly updates about the recruitment are available.
Conclusion Speech
If you have any personal opinion or question about this article, let us know quickly, our team will definitely respond and reply. So if you liked the post share it on your social media so that other job aspirants can also get the latest updates on DWA Exam.