SSC Result 2023 Published Date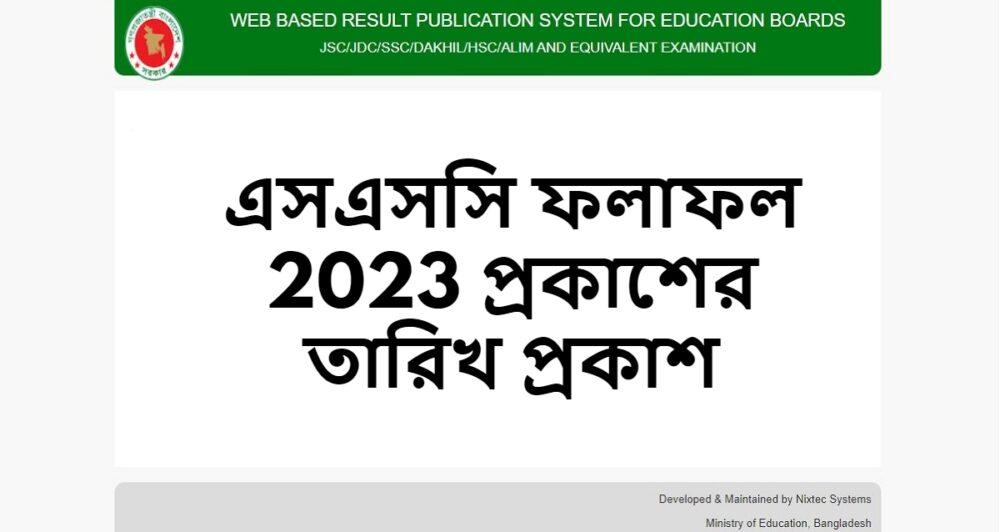 Those who have visited here to get SSC Result 2023 Bangladesh will definitely know the correct information. Inter-Education Board Coordination Sub-Committee President Prof. Tapan Kumar Sarkar told the media on Thursday that SSC and equivalent exam results 2023 will be published on any day in the last week of July. SSC exam started simultaneously across the country on 30th April & ended on 28th May. 20 lakh 72 thousand 163 candidates participated in the examination under 9 General Education Board Madrasa and Technical Board of the country.
http://www.educationboardresults.gov.bd/ and https://eboardresults.com/v2/home it is the official website publication SSC exam result will be known. Therefore, we have provided the link of the mentioned website SSC candidates from all over the country can visit and collect the result by inputting the roll number, registration number. Dipu Moni SSC result will be handed over to Prime Minister Sheikh Hasina at 10 am on the day of result release, then available online.
SSC Result 2023 Publish Date in Bangladesh
However, it is roughly known from various sources that the SSC exam result will be published by 28th July 2023. How to get the result from online with marksheet and numbers will be discussed in detail here today, you can certainly follow the post. Moreover, most of the people here are following various websites to know the SSC exam result release date, we have published this news for their convenience from an authentic source.
Those who are interested to know about the SSC result must collect from here and can easily get the result online. Bangladesh Ministry of Education held this year's program late, but it is being conducted properly and the results are being published, this is very happy news. Because students from all over the country have participated in the SSC and equivalent exams with more dreams, it is the most important event at the secondary level.
That is why Bangladesh Education Minister Dipu Moni is going to conduct the SSC examination through all measures and publish the results. A larger number of students appeared in the SSC examination under eleven education boards than any other year which is said to have made history. Students, parents, relatives, school officials are waiting to know this SSC result, finally the Ministry of Education has given the good news that 28th, July 2023 result is going to be released.
SSC Result 2023 Bangladesh
Now in the digital age, anyone can collect different types of news from online, we publish regular news specially about Bangladesh Education. Thousands of visitors visit our website to keep up-to-date with the results and educational matters, so for everyone's convenience SSC Result 2023 Date is presented here, if you like it.
The link of the website that is given to view the result, the SSC result can be known very easily by inputting the roll number. This is the only official website to get results through it, moreover, you will not get it in any other way from online. If you are facing problem to get the result from online due to server issue then you can know the GPA point table by using SMS method.
SSC & Equivalent Examination Result 2023
Bangladesh Ministry of Education has released all the means to know the SSC Result which is convenient for the students and can get it online. We have presented here all the latest methods and provided important documents that any examinee can easily collect good result from online. A large number of people do not know how to collect SSC and equivalent exam results online, we have come up with this news to inform them.
So, if you like the information and other content here, then you can know the SSC Result 2023 release date through our website and now it is easy to know all this information by following various websites online. As, various people benefit from getting education news from our website, checkresultbd.com to get SSC/Dakhil Result 2023. Rules are already given here which any aspirant can look with confidence, see below.
How To Check SSC Exam Result 2023 All Education Board
At first the below result link or visit at www.educationboardresults.gov.bd.
Now select the Examination Field as like SSC/Dakhil or SSC Vocational.
Then you have to select your Examination Year as 2023.
Select Your Board Name like Rajshahi, Dhaka, Mymensingh, Comilla, Jessore, Chittagong, Dinajpur, Sylhet, Barisal, Technical and Madrasah
Now write your SSC/Dakhil or SSC Vocational Roll Number
you have to input your Registration Number
Now you have to answer a math like 6+9=15
Next you have click the Submit Button.
By clicking the Submit Button you will get SSC Exam Result 2023.
About SSC Result 2023
You will not have any problem to get the SSC result which is given above information, so visit as soon as the result of the exam is published and know the desired result, you will not get it before that. That's why we have raised this issue to inform everyone, usually lakhs of students are worried about the SSC result because after 10 years of studying they get an opportunity to give this exam. You can know the GPA point table only when the result is released.
Bangladesh Ministry of Education will release the SSC Exam Result 2023 officially. That's why you don't have any reason to worry. We will collect the latest updates and present them in this article. Moreover, you can get it from various sources. Now in the world of internet everything is at hand's reach and can be known easily by searching so, finally we want to say that SSC Result 2023 is going to be published very soon wait to know the result.
Check Result Via SMS
You can check the result of SSC and equivalent exam by SMS which SIM is allowed all over Bangladesh, so check the mentioned SMS format already provided. Usually after sending the SMS the sim company sends the result in less than a minute so it's very easy see below.
SSC <space> First Three letter of Board Name < space> Roll Number and send it to 16222
For Example : SSC  DHA 246688 send 16222
Bangladesh Education Board 3 Letter Code Name
SYL = Sylhet Board
RAJ = Rajshahi Board
JES = Jessore   Board
DIN = Dinajpur Board
CHI= Chittagong Board
MAD = Madrasah Board
DHA = Dhaka Board
BAR = Barisal Board
COM = Comilla Board
www.educationboardresults.gov.bd SSC Result 2023
There are total 11 education boards all over Bangladesh, all the SSC candidates must go to the official website to get the SSC exam result. Manually, results can be obtained quickly even from one's own Institution, now that the era is online, everyone wants to get it at home. Online and SMS methods are presented on our website to find your SSC Result 2023 through whichever will be convenient for you. The rules for deriving the SSC exam results of all education boards are the same, visit the website and input the roll number and registration number to find the result. And if you are not able to get the result online by yourself then use SMS method and if you can't then get the result with the help of others or from the institute.
Final Words
You can follow our website to get such type of SSC result of any board, surely you will get your desired distribution. If you have any special opinion or anything to know about this post then you can let us know. We will definitely try to answer your questions, so please share the post and help inform all the SSC candidates of Bangladesh about the result updates.