PWD Exam Date & Admit Card Download 2023
Public works department PWD recruitment exam date and admit card download notice has been published. Those who are interested to take the recruitment exam must download the admit card already the authority has sent all the information through mobile SMS to the applicant. Username and password will be required to download Public Works Department PWD admit card. If you are interested to know how you can collect all distributions of the recruitment exam without any hassle, today we will present a detailed report, you can follow the post. Here provides the latest updates regarding PWD Recruitment Exam Schedule, Seat Plan and Admit Card Download.
This is recruitment circular 2020 finally, coming in 2023 the authorities are going to conduct the recruitment exam this is very happy news. Because 159 manpower from all over Bangladesh will get job opportunity, in that case you must be eligible candidate if you want to fall under them. Public Works Department PWD Admit Card provides career opportunities to eligible job aspirants. Officially the distribution of recruitment exam has been published that's why we have presented all the updates here for your convenience, it will definitely be useful for you. All the job aspirants can get the latest recruitment exam updates by visiting the official website apart from our website.
Since everyone has visited our website to collect the recruitment exam distribution, that's why we have provided the link to the official website, if you want to visit, you can know more accurately. Public works department recruitment exam is very important in that case you must prepare for the exam so that you can pass the exam well and move on to the next step. Authorities give equal opportunity to all candidates so don't worry if you are a qualified person you can definitely get a job by clearing the recruitment test. Basically we have published this article to give information regarding PWD recruitment exam date and admit card download so follow it safely you can definitely collect it.
PWD Recruitment Exam Info:
Organization Name: Public Works Department (PWD)
Total Vacancy: 169
Exam Date: 20 & 27 May 2023 
Exam Time: 3.00 PM to 4.00 PM
Exam Type: MCQ
Exam Centre: Dhaka
Admit Download Link: http://pwd.teletalk.com.bd/admitcart.php
Public Works Department PWD Recruitment Exam Date, Seat Plan and Admit Card Download Notice 2023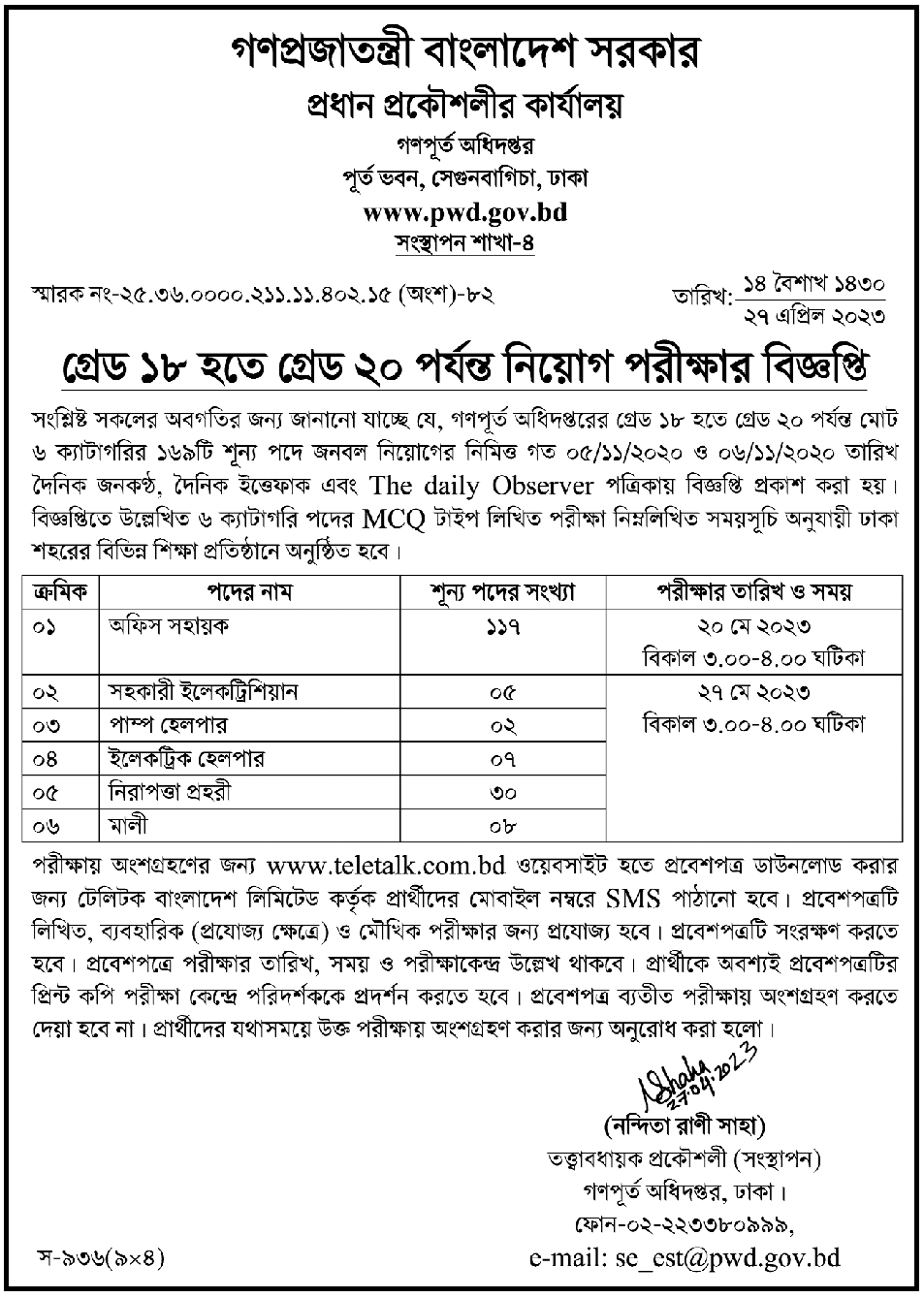 We have shown the way to collect admit card of PWD, of course you can try to collect it using username and password. There are many job aspirants who don't know about how to get admit card online, we have presented it here nicely for their convenience, they can definitely benefit. First of all we want to tell you that we must read the notice given here from the beginning to the end because the authority has given all the instructions for the recruitment exam through this notice. Moreover, more instructions can be found on the official website of the Public Works Department, if you are interested, you can check it.
Regularly we collect all distributions of government recruitment exams and present them for your convenience. We present this report to inform you that this recruitment examination process is going to start officially. If you have any special opinion or question, you can let us know as soon as possible, we will try to reply to your words as soon as possible. Of course if you like this post don't forget to share it so that other job aspirants can also gather information. You can stay with our website regularly to get more such recruitment exam updates every day.