Ministry of Textiles and Jute Job Circular 2023 Apply From
Ministry of Textiles and Jute MOTJ published recruitment circular for 2 posts, follow the post for detailed information including application process. Because there are many job aspirants who don't know about how to apply online so this article is published for their convenience.
However, if you are interested in textile and jute ministry jobs then follow the circular and know about the application. This job distribution is simply presented for all job aspirants in Bangladesh.
Ministry of Textiles and Jute Job Circular 2023
As the new job circular of Ministry of Textiles and Jute has been published, if you are eligible then apply. Authorities always provide jobs to qualified people in this case everyone will have a chance to get a job. Those who still don't know about this job circular and other relation collect the circular distribution quickly.
Candidate age limit, educational qualification and other instructions which we have collected from the job circular and presented here should be followed in that case. In most cases, when any government job recruitment circular is published, various visitors visit our website and that is why it is specially presented here.
MOTJ Job Circular 2023
Recently textile and jute ministry announced new recruitment this is very happy news job aspirants from all over the country will get opportunity. So check now if you are eligible for this job given in the circular. We have already made the application link available on our website, you can complete the application using the information.
Be sure to know about the job instructions before completing the application process as the application will not be accepted if it is not correct. For this reason, we have highlighted these points to give you the right idea. Below is the Ministry of Textiles and Jute MOTJ Job Circular 2023.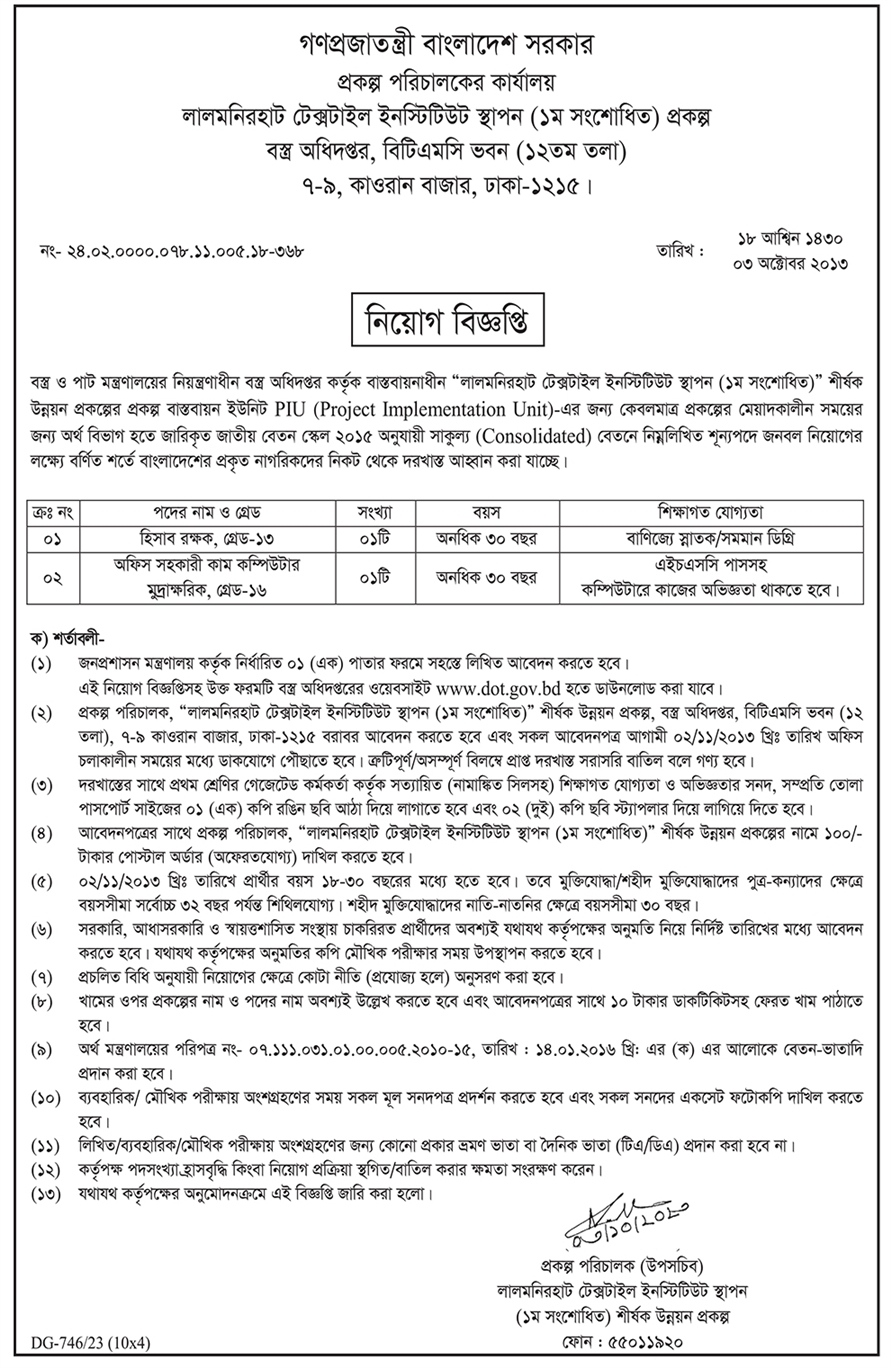 Source: Daily Alokito Bangladesh, 04 October 2023
Application Deadline: 02 November 2023 
www.motj.gov.bd Job Circular 2023
If you are not able to apply online for this job by yourself, complete the application with the help of others. To know about Ministry of Textiles and Jute MOTJ job application release, you can also contact the official website.
Moreover, the job circular is very well given, you can follow it to know and complete the application. For the convenience of the candidates, the circular has been released by the authorities in a very simple presentation.
Last Words
You can visit our website regularly to get daily government jobs circular. We regularly publish articles on jobs and education topics to keep visitors happy. As always if you like this article don't forget to share it so that other job seekers also know about the job.