The Ministry of Local Government, Rural Development and Cooperatives has published a new recruitment notification for the Rural Development and Cooperatives Department. It is very good news that the government of democratic Bangladesh has announced the appointment of permanent government for rural development after some time.
The government of the country is always ready to increase the employment of rural people. In 2022, it is very good job news, the Ministry of Rural Development and Cooperatives will be able to work if you are a citizen of Bangladesh. Be sure to spread the word so that different people can apply for jobs. The Permanent Government, Ministry of Rural Development Job Circular PDF file can be found here online and can be easily downloaded. RDCD Job Circular 2022.
Local Government Division LGD job circular 2022
There are more branches in the Rural Development Cooperative Department. The first thing you will see is which department you are willing to work in. Only then, if the eligible candidate is selected through rotation, he must be able to join the job. The Ministry of Rural Development and Cooperatives controls the branches of these government jobs. Of course you have to read this post carefully and apply at the scheduled time. Check it out now if you don't get all the more job news on our site. If the local government is willing to work for the Ministry of Rural Development Cooperatives, they must be qualified and have the physical and mental manpower.
Job Summary
Organization Name: Local Government
Job Published Date: 16 August 2022
Number of Vacancies: see the circular
Educational Requirements: See image
Age Limit: 18 – 30 Years
Job Types: Jobs
Jobs Source: Jugantor 
Source: Online job portal
Jobs Location: Anywhere in Bangladesh
Official Website: www.rdcd.gov.bd
Application Deadline: 15 September 2022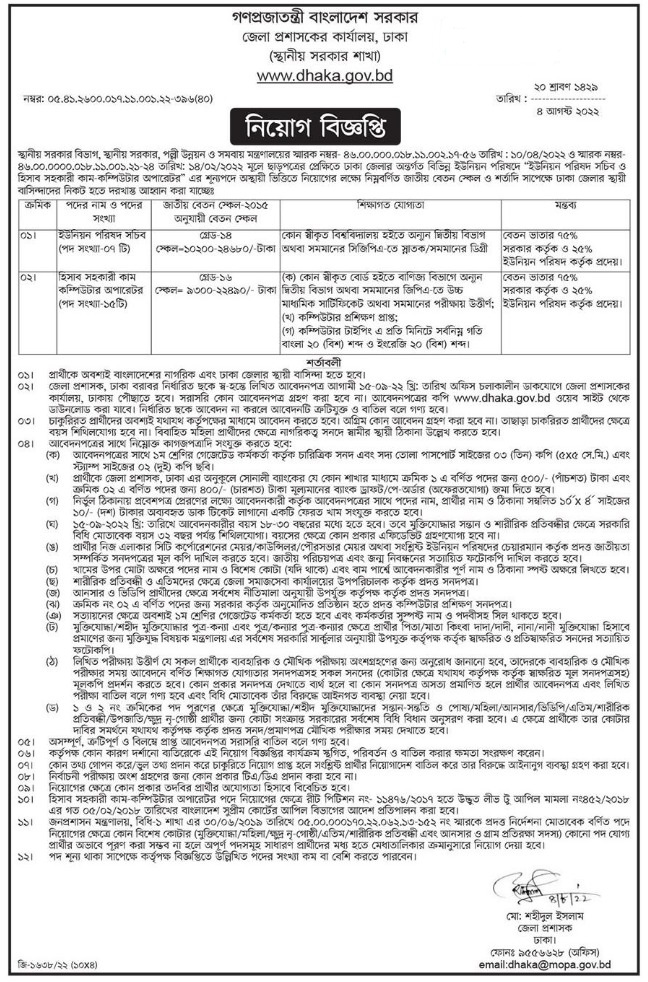 Visit the official website of the Rural Development and Cooperatives Department to get all their information.
Example: RDCD ABCDEF
Reply: Applicant's Name, Tk …. will be charged on the application fee. Your PIN is 12345678. To pay the fee type RDCD <space>Yes<space>PIN and send 16222
2nd SMS: RDCD <space>Yes<space>PIN and send 16222
Example: RDCD YES 1234578
Reply: Congratulations Applicant's Name, payment completed successfully for RDCD Application for post xxxxxxxxx [User ID is (ABCDEF) and Password (xxxxxxxx).
RDCD Job Circular 2022
In Bangladesh RDCD Job Circular offer new vacancy notice for the student who are qualified for get this govt jobs. Rural Development and Cooperative is also known as RDCD in our country. It is very attractive job for BD job seeker. Every Job applicant can easily apply RDCD if they are qualified and follow their Recruitment guideline. In this month Rural Development and Cooperative Organization are looking for Office assistant, Manager , Computer operator which are mention below this official circular image. With the job chances in Rural Development and Co-operatives Division authority, anyone can take this opportunity. 
Last Words
Finally, you can have 100% confidence in the job vacancy zero verified. Don't miss out on this great opportunity, government job means huge opportunity. Stay up to date with all the job news every day. Thanks You