Community Clinic Job Circular 2023 Apply Online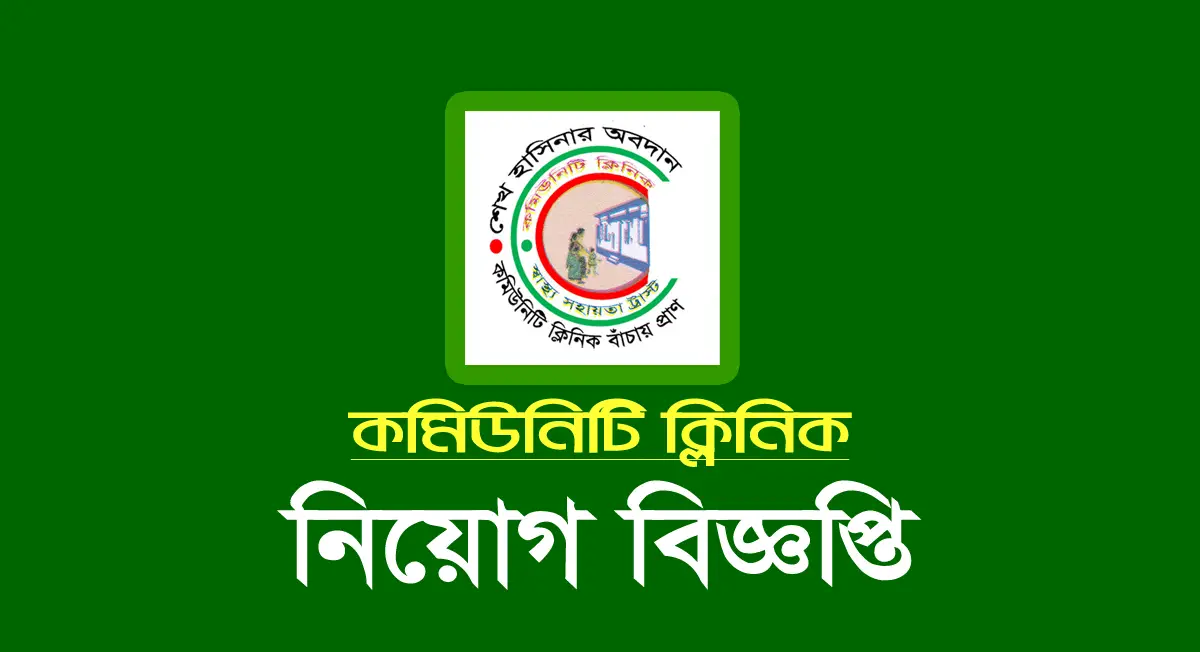 Today, the community clinic has announced a huge manpower recruitment notification for 828 posts. People from 64 districts will get the opportunity. All the job seekers who are interested are urged to complete the application process knowing the rules and regulations of the circular. This is the new recruitment of 2023, the community clinic job is very important, because the employees are well paid. That's why you have to build yourself up in this job because it is difficult to get a job now.
It is very good news that community clinics will be recruiting more posts in the country in 2023 as people from 64 districts are getting opportunity for 828 posts. Millions of candidates are waiting for the Bangladesh Community Health Center Job Circular. Finally, they are getting the opportunity. It is safe to run for Job under the Government of Bangladesh and be successful because community clinics always evaluate qualified people.
Community Health Center Job Circular 2023
Candidates, we have realized the urgent notice regarding the appointment of Upazila/Union Community Clinic on our website. This is an important job circular because 828 people will get opportunity from 64 districts of Bangladesh. There are Upazila Community Clinics in different parts of Bangladesh, which are controlled by the Government of Bangladesh.
Are you a job seeker? This job should be done because the employers have better pay and other benefits. Upazila community clinics always give priority to qualified candidates and finally you can prepare for the job because opportunities do not always come.
Short Job Summary:
Organization Name: Community Based Health Care (CBHC)
Total Vacancy: 828
Application Last Date: 13 September 2023
Application Link: Click here
CBHC Job Circular 2023 PDF
Office Assistant cum Data Entry Operator, Community Health Care Provider, Car Driver and Office Assistant will have huge manpower opportunities. We think this is the biggest recruitment of the year. If you are interested, apply online. However, see the recruitment circular of the Upazila Community Clinic given in PDF.
www.communityclinic.gov.bd Job Circular
Dear Candidates, I hope you have found the circular and collected other information by this article. Millions of people have expressed satisfaction over the fact that our community clinic has provided one of the most easy to find recruitment information for all candidates.
Authorities have officially published in Kaler Kantho from where we have collected and uploaded here so that you can apply as per your convenience application link perception. At all times the community clinic highlights the best work and the people of the country can reach the right place.
However, at present the educated population of the country is increasing and there is a dearth of jobs because it is not possible to provide jobs everywhere with more people, only qualified people are succeeding, you can also try because the community clinic center is highly valued with the right status.
So, you will find circulars regarding recruitment of various public and private centers. Visit here daily. Because www.bangladeshresutbd.com website is working to deliver the recruitment circular to all the people of Bangladesh. Candidates can let us know if they have any feedback and we will contact you in due course.
Related Search Google
upazila community health center job circular 2023
community clinic job apply
community clinic in Bangladesh pdf
www.communityclinic.gov.bd job
union community clinic job circular
health job circular 2023 pdf
community clinic job circular 2023 pdf download
www.communityclinic.gov.bd