Community Bank Bangladesh Job Circular 2023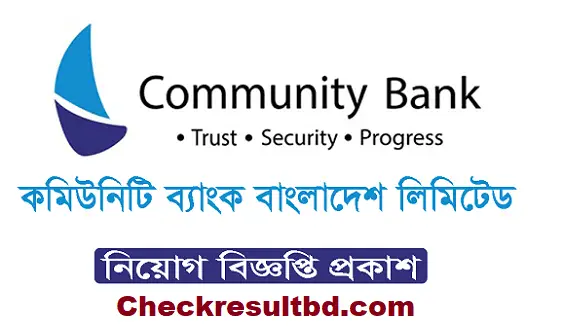 Community bank Limited job circular has been published on 8th August 2023 at www.communitybankbd.com. Bank Manpower Recruitment Circular has announced that job seekers will be able to get the job if they are qualified. Community Bank Limited is at the top in 2023 and is one of the commercial banks to the people. People from all districts of Bangladesh Community Bank Limited can apply for this job online but the candidates have to be qualified, select a few and engage. Community Bank Limited started its journey in 2019. It is a completely new bank but they have improved in terms of work. According to some sources, they will build their organization all over Bangladesh and people will be satisfied with their work.
Community Bank Limited Job Circular 2023
Among the private banks, Madhya Community Bank Limited is a new bank but has improved a bit in their short run. Community Bank Bangladesh branches will be gradually expanded across the country. They issue recruitment notices every year. If you are willing to work here, the first thing you need to do is to complete the application on time.
They pay the employees well. This is huge good news for the people because the unemployment rate in Bangladesh is high so they are looking for jobs in different organizations. You can apply for this job. Community Bank Limited will be able to build its career and improve through employment here approved by the Government of Bangladesh. That is why people are interested in Community Bank Limited jobs.
Short Job Summary:
Employer: Community Bank Limited
Published Date: 8th August 2023
Job Nature: Full-time
Education Qualification: See Circular
Gender: Male and Female
Job Location: Anywhere in Bangladesh
Website Link: www.communitybankbd.com
Age Limit: See Circular
Application Last Date: 20th August 2023
Source: BD Jobs
www.communitybankbd.com Community Bank Job Circular
Do you want to work in a community bank? If you want to know about them, visit Google now or find out through this post that all the information has been provided. Of course job seekers will be very helpful and the application date is the last date of application.
I have outlined the process here. I hope you will understand everything. Community Bank Limited can have confidence in their job because even though their journey is less equal, they have the same position as other banks. You need to know about Community Bank Ltd. because they have some rules and regulations and you have to follow them to be employed in this job.
Conclusion
Dear Visitors, We hope we have been able to give you an idea about Community Bank. We use the recruitment notice of all government and private banks here to eliminate unemployment and become an employee. You should do this job because it is quality work. If you want to get news of other jobs then visit our Facebook page or website and you will find all the jobs. Thank you.