Write a Letter to Your Friend Describing the Dangers of Smoking | for class 6,7,8,9,10, JSC/SSC/HSC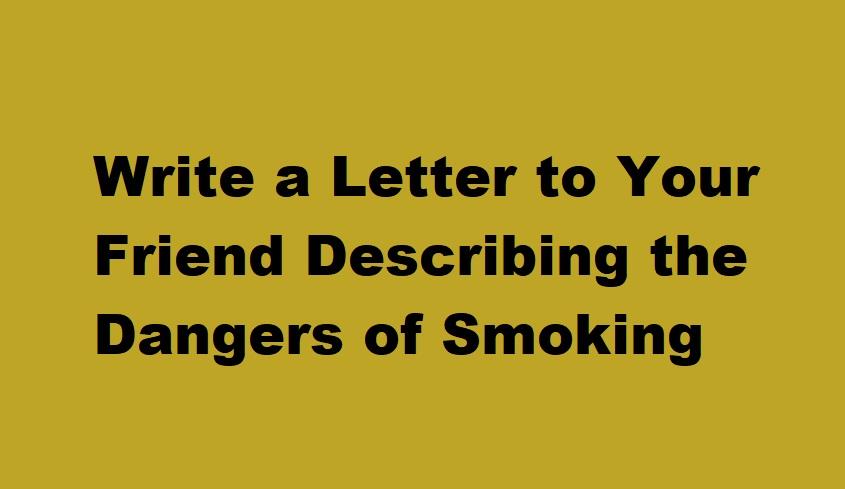 HI Visitor, Write a letter to your friend describing the ill effects of smoking.
Dear friend i hope you are well It is now seen that millions of people addicted to smoking are suffering as a result. The number of lung cancer cases due to smoking is increasing all over the world and people are constantly dying.
I know you are a smoker so for your own good I want to say quit these now or you may become more addicted later. Everyone knows that smoking is a very harmful drug but it is very difficult to get out of it once you become addicted. Knowing your condition, I tell you, you have to get out of it and go through a good brain.
In general, you should now refrain from associating with all your friends who are addicted to drugs because smoking with intoxicated people is out of control.
We usually understand and know everything but are still interested in drugs. I want to tell you that good people are never interested in drugs. So get out of here quickly, this is my demand. In today's society people can never see intoxicated people. It is generally known that you should take the unknown. If you want to live in a society, you have to know more rules and regulations.
Anyway, I hope you keep all my word because I have written a letter to you in the hope that you will give priority. See you soon and have more discussions. We have more thoughts. We will form a team against smoking and improve the society. We hope to have you by our side. Be well