General Insurance Corporation SBC Job Circular 2023
General insurance corporation (SBC) Job circular has been published on 24 June 2023 at www.sbc.gov.bd. Extremely popular job candidates need to apply online. General Insurance Corporation SBC has announced recruitment of manpower for their various posts in several categories through their official website www.sbc.gov.bd. If you are interested in getting a job, be sure to check the number of posts and the Sadharan Bima corporation circular. Unemployed students can be employed in this job through the qualification course is required. To do this job, you have to be at least 18 years old and have educational qualifications.
The General Insurance Corporation SBC will select some people and employ manpower. Eligible people must take advantage of this opportunity. General Insurance Corporation (SBC) is a popular job in Bangladesh. Candidates are interested in this job throughout the year. Complete the application by selecting the post that is eligible for the position in this job.
General Insurance Corporation Job Circular 2023
General Insurance Corporation has earned a reputation in this country. They are ahead of other insurance companies in hiring locally. If you want to get more information about this job, visit their official website now or do a Google search. Most people do not know how to process the application. We will be able to know all the candidates through this post. General Insurance Corporation (SBC) 2023 job completion information is given in the circular, however, each job seeker must know. People from different districts of the country work in general insurance corporations and get good salaries. General Insurance Corporation SBC evaluates each candidate and must complete the application before the application deadline. Apply within the specified time given the application link here.
Job Summary:
Organization: General Insurance Corporation (SBC)
Published Date: 24 June 2023
Jobs type: Government jobs
Application Fee: 500 Taka
General Insurance Corporation SBC
Apply Start Date: 05/07/2023
Type of Jobs Full Time
Apply Online: www.sbc.teletalk.com.bd
Education Requirement: See Circular
Salary: 50,000 – 71,200 Taka
Official website: www.sbc.gov.bd
Application Deadline: 25 July 2023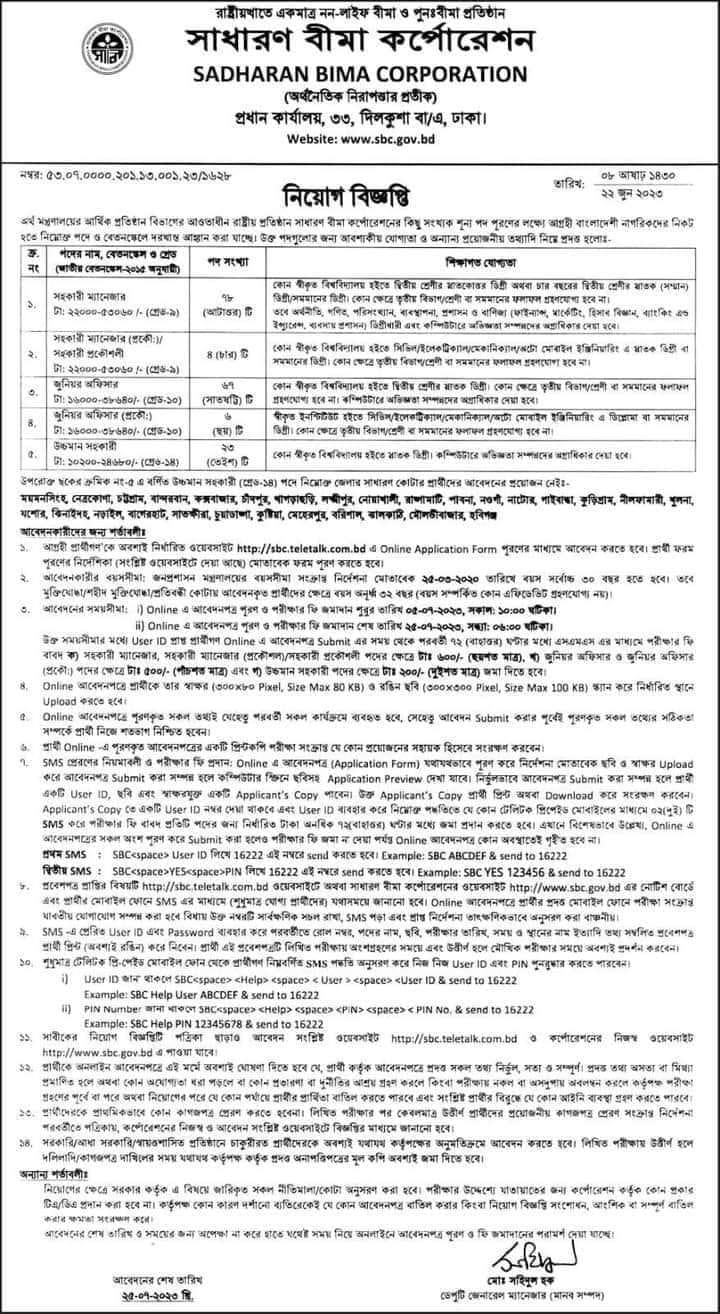 www.sbc.gov.bd Job Circular 2023
If you are looking for a general insurance corporation job circular then you are in the right place. Today Bangladesh protidin potrika has published Job Circular this week's popular Job general Insurance Corporation SBC. Before applying for this job, the candidates should know the rules and regulations of the job because before applying, they give the schedule of the recruitment test. If they can pass, then they can be employed in this job. This is important information. The people of 64 districts will be able to do this job. Most of the people in Bangladesh are unemployed so they are looking for a regular job every day. The best job news for them today is Life Insurance Corporation. If you want to get a job in a life insurance corporation SBC, you must be honest and do not pay any kind of bribe.
Conclusion
We have discussed about life insurance corporation SBC jobs, of course you will find it useful. Know the rules here then apply. Let us know if you have any comments about the 2023 SBC Insurance Corporation SBC job we will try to help.